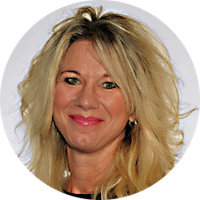 Tina Laister
PhD
Director
Areas of Expertise
Strategic Insights & Resourcing
About
Tina brings more than 20 years of Medical Affairs and Commercial experience from the pharmaceutical industry. She has expertise in Strategic Planning, Stakeholder Management, Medical Review/Writing and Training and Development. Her diverse background encompasses experience in both primary and specialty care in therapeutic areas of respiratory, allergy, diabetes, cardiovascular, gastroenterology, biologics and osteoporosis. She has created and implemented innovative strategies and materials and has been involved in leading and implementing pre-launch and/or launch activities for over 15 products.
Soon after completing her PhD, Tina began her career at Glaxo as a sales representative, and she quickly progressed through roles of increasing responsibility, including specialty/hospital sales and sales training. In 2005, Tina transitioned into Medical Affairs, assuming the role of Medical Science Liaison (MSL) at Altana Pharma where she identified, developed and maintained effective relationships with KOLs, disseminated clinical and scientific data to support therapeutic decisions and provided medical direction for several key publications. Tina then took on a Medical Advisor role at Altana/Nycomed/Takeda Canada Inc., where she played a significant role in establishing and implementing the Canadian Medical Strategic Plan in the areas of diabetes, hypertension and inflammatory bowel disease (IBD). Tina has provided medical leadership, materials and training at the global level for IBD MSLs and other Takeda Medical Affairs professionals.
Tina holds a PhD in Experimental Psychology from McMaster University as well as a Bachelor of Science degree from McMaster University, majoring in both Biology and Psychology. At Pangaea, Tina specializes in MSL Optimization, Medical Affairs Strategy Development and Implementation, and Maximizing Medical/Commercial Integration and Synergies.
Email Tina Laister
Articles by Tina Laister