Services
Collective Intelligence
Shed light on your organization's deep sales, marketing, logistics and feasibility issues. The Pangaea team knows the way forward.
Get unequalled insight into the entire Canadian pharma industry with our ecosystem of core services. It represents our understanding of the full spectrum of the complex, ever-changing Canadian pharma landscape.
Collaboration is key
Our principals work together seamlessly, complementing each other's strengths and experience to give you the best possible guidance—from Strategic Insights and Resourcing to Trade Relations and Channel Marketing.
We take a disciplined approach to addressing your core issues, amplified by the broad experience of a complete team of experts who know.
The Pangaea Ecosystem of Services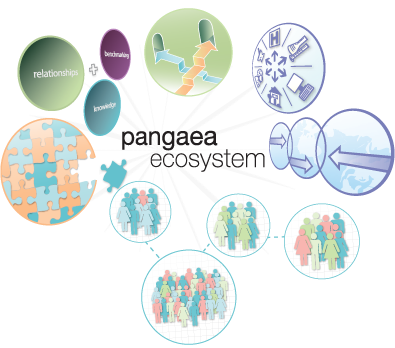 Trade Relations
We can act as your entire outsourced trade relations team—for less than the cost of a single employee.
Learn more about our trade relations services
Channel Marketing
Specialized insight into geographical and channel challenges from retail to Internet pharmacy.
Learn more about channel marketing for Canadian pharma companies
Strategic Insights and Resourcing
From published materials edited and curated by our executive team to in-depth planning and team-building sessions, Pangaea can help your organization reach its highest potential.
Learn more about our strategic planning for Canadian pharma companies